This is a special announcement for the underwater photography enthusiasts out there! As those of you who have followed my work for a while probably know, although I do a lot bird and primate photography, I am also passionate about exploring the underwater world with my cameras, especially to document the diversity of life on coral reefs.
My underwater stories for National Geographic have included "Fiji's Rainbow Reefs", and "One Fish Two Fish Red Fish Blue Fish – Why are Coral Reefs So Colorful" (yes NatGeo cleared the title with Dr. Seus), as well as other projects mixing topside and underwater coverage, like "Mangroves" and "Biodiversity Hotspots – Philippines".
My favorite place to dive, ever since I spent considerable time there working on two stories for German GEO magazine in 2007, has been the Raja Ampat Islands of West Papua, Indonesia. This region has been documented to have the highest coral and fish species diversity on the planet, and reefs that are in excellent health. It also doesn't hurt that these islands harbor birds-of-paradise (which can be seen on morning excursions from the dive resort).
I am thus excited to announce that later this year, from August 6-16, 2023, I will be leading an Underwater Photography workshop with my good friend and colleague Zafer Kizillkaya at the spectacular Papua Explorers dive resort.
You can read more about the workshop and learn how to sign up at PapuaExplorers.com. If you are interested, please sign up soon.  Space is limited, and spots have begun to fill already.  
Reef Rebirth Under the Jetty
Meanwhile, below are a few images that my son Russell and I took in 2022 during a brief diving trip with Papua Explorers. I hope this gives you a little sense of the scope and diversity of marine life that you can see and photograph in Raja Ampat. Please also check out my co-leader Zafer's Instagram feed to see his great work from Raja Ampat (@kizilkaya_zafer).
It really is one of the top diving destinations in the world, so if you are interested in improving your underwater photography, why not join us in Raja Ampat, a true paradise for underwater photography?
If you have any questions, feel free to email me at studio@timlaman.com as well.
A Few More Recent Shots From Raja Ampat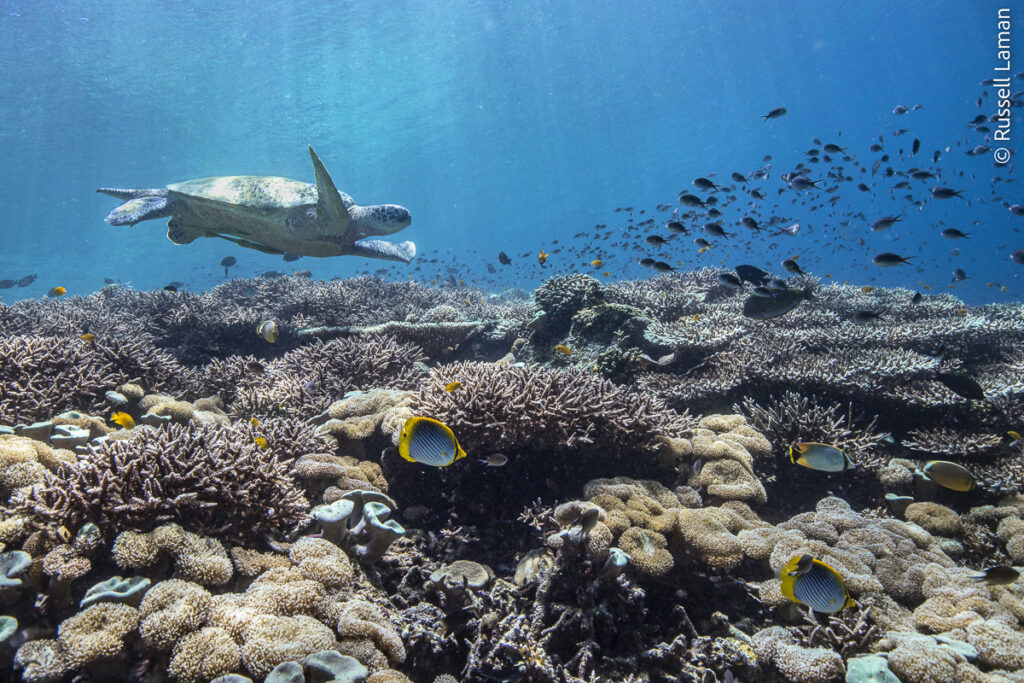 In Raja Ampat, it's possible to shoot wide angle shots of vibrant coral reefs teaming with life, such as this shot of a green sea turtle swims over a diverse and healthy reef by Russell Laman.
 Detail of a spotfin lionfish.  With a great variety of approachable fish species, Raja Ampat is a great place to shoot creative fish portraits.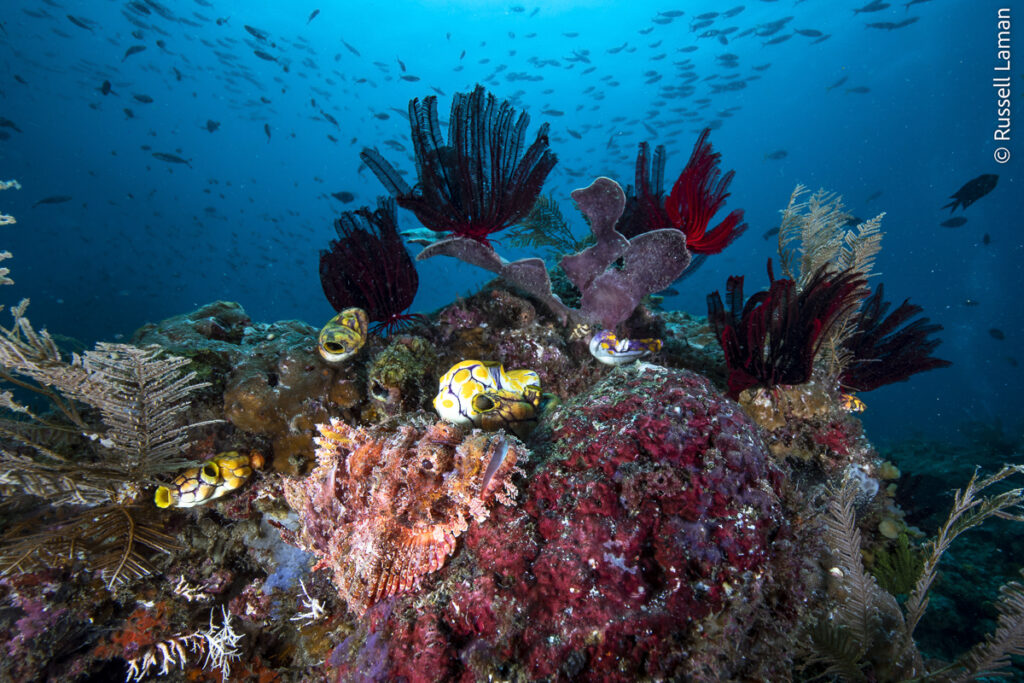 Fascinating and colorful subjects abound for the wide-angle enthusiast.  Can you spot the scorpionfish in this shot by Russell Laman.
A tiny striped goby rests on a colorful sponge.  For the macro photography enthusiast, there is no end of subjects to explore in Raja Ampat.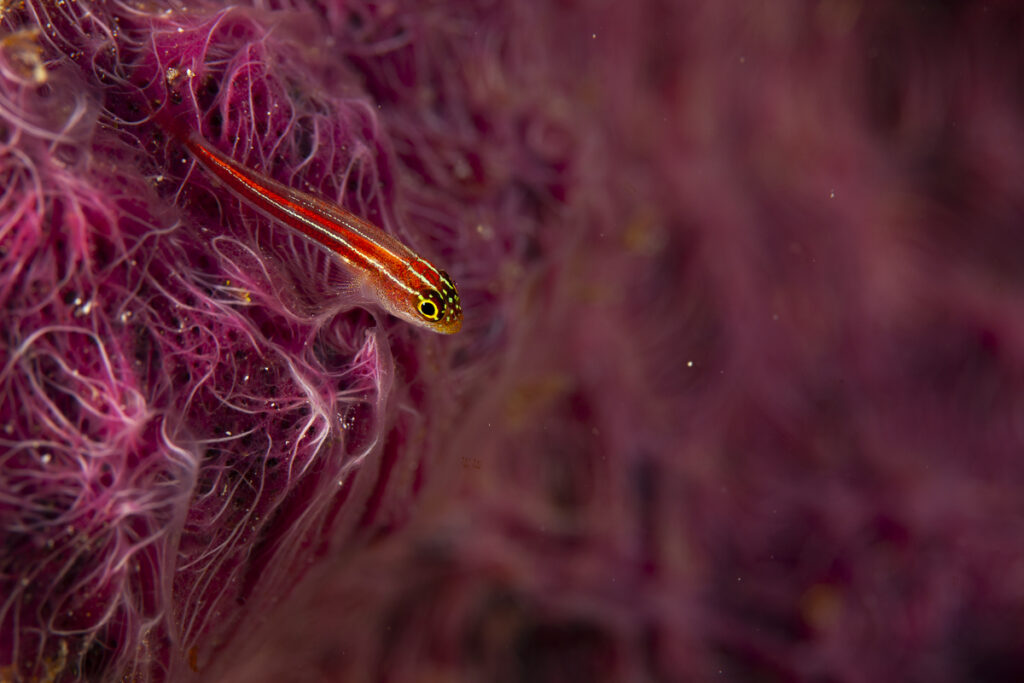 A pair of crab-eyed gobies hover at the entrance to their burrow.  If you are fascinated by the behavior of fish and other marine creatures, Raja Ampat is a wonderful place to explore with a camera.
Pajama cardinalfish hover among the mangrove roots.  The clear water around these limestone islands makes Raja Ampat a great place to experiment with over/under type images such this shot I made at the mangrove forest edge.
A Glimpse Behind The Camera
Here is my co-leader, extraordinary underwater photographer Zafer Kizilkaya working his magic with a school of cooperative sweetlips.  Join us in Raja Ampat this year, and we'll help you improve your photography while you also enjoy some spectacular diving.  If you have a housed dslr and strobes like Zafer, great, but if you have a simpler camera system, that is also totally fine and we will help you get the most of it.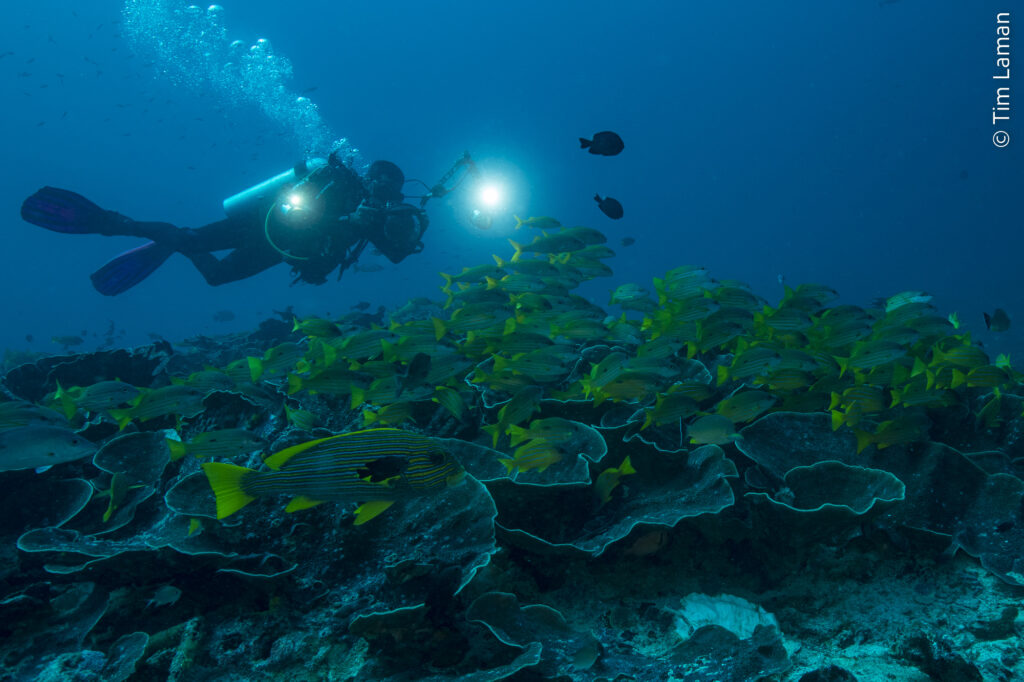 Thanks for tuning in to my adventures. If you know any Underwater Photography enthusiasts who may not get this newsletter, please feel free to pass it on…. I really appreciate it.
Stay safe everyone, and be sure to get your dose of nature therapy! I hope to see you later this year in Raja Ampat!
Warmest regards,
Tim Laman