Tim Laman is a field biologist, wildlife photojournalist, and filmmaker. Since getting his Ph.D. from Harvard for pioneering research in Borneo's rainforest canopy, his cameras have been his tools for telling the stories of rare and endangered wildlife, and revealing some of earth's wildest places. He has photographed on all seven continents, and regularly travels to some of the most remote corners of the earth to explore and document poorly known species. Working in extreme environments from the rain forest canopy in Borneo to the coral reefs of Papua, and from mountain peaks in New Guinea to the seas of Antarctica, Tim spends many months a year on expeditions to study and photograph the biodiversity of earth's richest realms. He is most well known for his long-term work on birds-of-paradise and orangutans. He has published 23 feature stories in National Geographic magazine, as well as worked on films for National Geographic Channel, BBC, and Netflix. His filming credits include the BBC's "Planet Earth II" and "Seven Worlds – One Planet", as well as Netflix' "Our Planet – Jungles" which was nominated for an Emmy for Best Cinematography in 2019. Tim's work has garnered numerous awards, including the overall prize Wildlife Photographer of the Year in 2016, twenty other winning images in that competition over the years, a 1st place Nature Story from World Press Photo, and the North American Nature Photography Association's "Nature Photographer of the Year". Tim is a fellow of the Explorer's Club and of the International League of Conservation Photographers, and is a Associate of the Ornithology Department at Harvard's Museum of Comparative Zoology, as well as the co-founder of the Birds-of-Paradise Project at the Cornell Lab of Ornithology.
Recent Film Credits:
America The Beautiful (Cinematographer for the alligator sequence, Wildstar Films, Disney+) 2022
Woodpeckers: The Hole Story (Cinematographer, Coneflower Studios, PBS Nature) 2022
Wild Babies (Orangutan stock, Humble Bee Films, Netflix) 2022
The Mating Game (Cinematographer, Silverback Films, BBC1) 2021
Attenborough's Life in Color (Cinematographer, Humblebee Films, BBC1) 2020
David Attenborough: A Life on Planet Earth (Additional Camera, Silverback Films, NETFLIX) 2020 — Emmy Winner for Outstanding Cinematography
Dancing with the Birds (cinematographer, Silverback Films, Netflix) 2020. — Winner – Best Animal Behavior Film. International Wildlife Film Festival 2020
Hunting the Helmeted Hornbill (director, cinematographer. Cornell Lab of Ornithology and National Geographic) — Winner – Best Wildlife Conservation Film. International Wildlife Film Festival 2020
Seven Worlds – One Planet, Asia (cinematographer, BBC) 2019
Our Planet – Jungles (cinematographer, Silverback Films, Netflix) 2019 — Nomination for Best Cinematography – Emmys and Jackson Wild, 2019
Planet Earth II – Jungles (cinematographer, BBC) 2017
Person of the Forest (co-director with Melissa Lesh, cinematographer. A short-form film selected at over 30 festivals, winning multiple awards)
Mission Critical: Orangutans (DP, NatGeo Wild) 2016
Attenborough's Paradise Birds (cinematographer, BBC2) 2015
Birds-of-Paradise – Winged Seduction (DP, NatGeo Wild) 2012
Great Migrations (cinematographer, Nat Geo Channel) 2009
National Geographic Magazine Credits:
Tim Laman has photographed 23 stories for the National Geographic to date. You can view all his stories in the National Geographic Gallery.
Awards:
Tim Laman's major awards are listed on THE ARTIST page in the Fine Art Gallery.
Tim shot for two award winning films at the International Wildlife Film Festival 2020.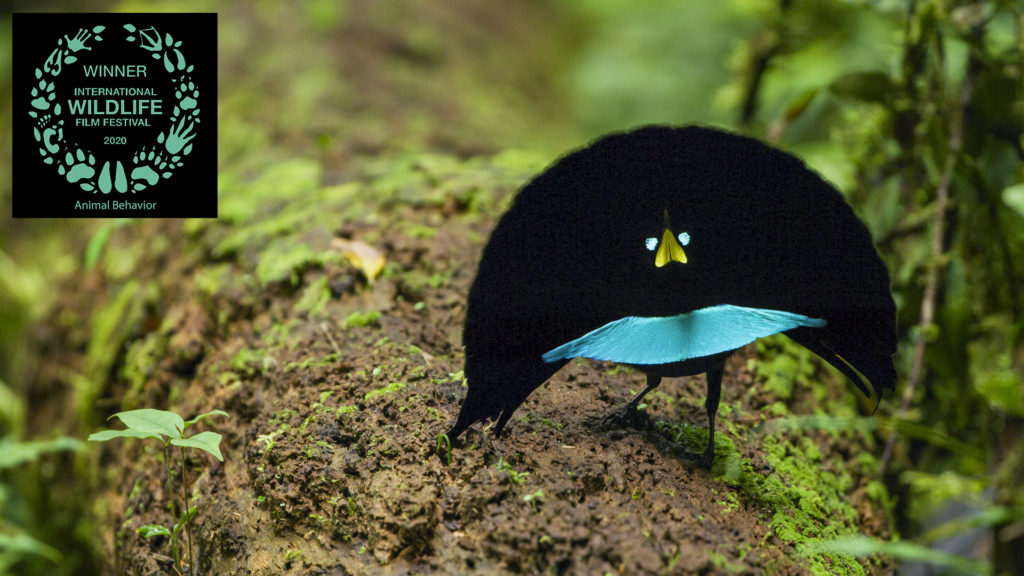 It's a Tough Job, but Somebody's Got to Do it:
Thanks to all my colleagues and team members who helped capture these behind-the-scenes photos! Your credits are in the captions.