On a photo expedition like this recently completed one in the Galapagos, you have to come up with the right combination of photographic equipment to carry and the best way to carry it. Unlike a National Geographic Magazine assignment, where I might be working with a lot more equipment, and able to hire porters and perhaps even have a dedicated photo assistant, when I am accompanying a Photo Expedition as one of the photography instructors, I am of course carrying my own equipment around every day just like the guests on the trip.
Most people opt for a pretty lightweight outfit for the on-the-go type shooting that we do on our walks ashore every day. A good setup would be to have two bodies, and have one mounted with a wide to medium zoom like a 24-105 mm, and the second body with a telephoto zoom like a 100-400 f5.6, or a 70-200 f2.8 plus teleconverters.
I did use that setup on some hikes, but I often chose to carry a bit more. I am used to lugging around a lot of gear and it doesn't slow me down much, and I do like to have a bigger lens with more reach. While it is true that in the Galapagos, you can often get very close to the wildlife, it is also usually not permitted to leave the trail, so longer reach can sometimes really help when you are at lagoons with flamingos, or places like that.
I came up with a really comfortable setup for carrying around the gear described below. I don't like a huge photo backpack that fits everything. It's too heavy when you have it on, and if you set it down and step away, then you will invariably need something from it like a teleconverter or a battery. I like the combination of a belt system for keeping the essentials handy with a slimmer backpack for the big lens and body. I have found a set of bags from ThinkTank that fit my working style very well. So what I carried ashore in the Galapagos what you see in this image on some lava rock on Fernandina Island: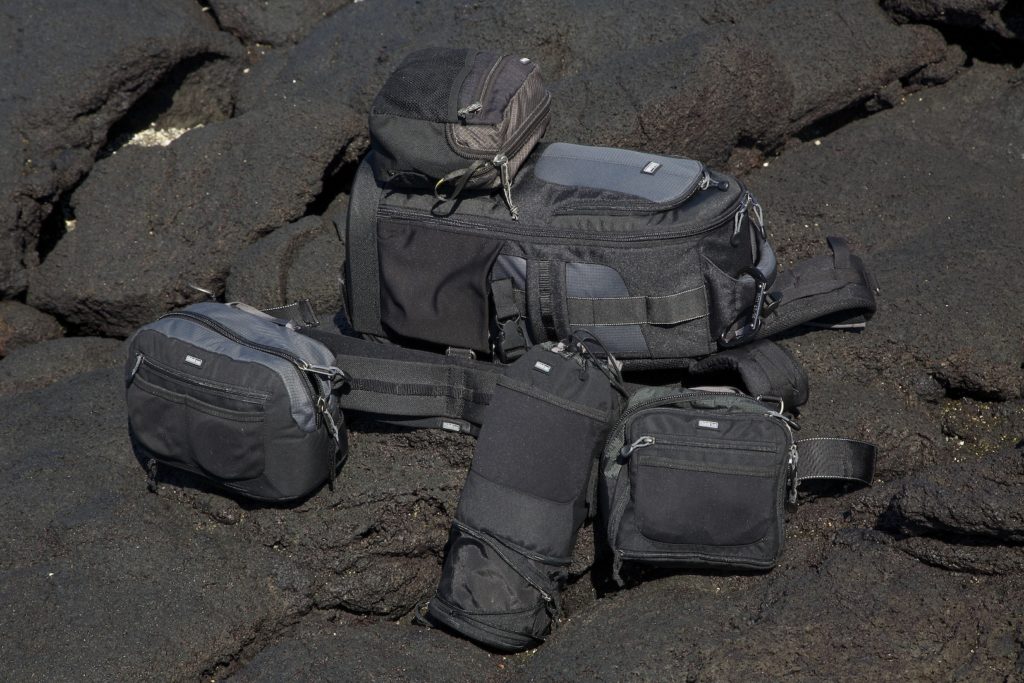 Belt-Pack system with:
Canon 5D-III, 16-35 mm f2.8, 24-105 mm f4 in large belt pouch (Camera fits in the pouch without lens on with the two lenses. I take it out and mount a lens on as soon as we are ashore, or even sometimes shoot from the zodiac if conditions permit.)
70-200 f 2.8 – in lens pouch
1.4x and 2x converters and spare batteries and cards, polarizing filter in another belt pouch that always sits right on my right hip for quick access.
Long lens backpack with:
Canon 1D-IV mounted with 400 mm f2.8
Water bottle and rain hood go in side pockets
Another pouch attached to the outside of this pack has my video viewfinder and mike.
With the use of the teleconverters in this outfit, I have coverage from 16 mm to 800 mm with just four lenses, which means I am ready for just about anything.
There was plenty of light to shoot hand-held most of the time, but on some hikes I also carried my tripod especially to do a little video shooting.
Note that all these ThinkTank pouches have built in rain hoods that are perfect for protection from the spray on zodiac rides and the occasional rain shower.