Dear Friends,
I'm continuing my celebration of the Birds-of-Paradise this week since it doesn't look like any of us are going to the field any time soon. I have chosen Wilson's BoP as the next species to feature from my archive.

Print Giveaway: Like this past week, I'm going to have a drawing at the end of this week to give away a print, this time it will be the first Wilson's BoP image featured below. If you have received this newsletter, then you are automatically entered. On Friday, we will randomly select one of my newsletter subscribers, and the winner will get an email as well as be announced on my Facebook page.
Wilson's Bird-of-Paradise, like the Red Bird-of-Paradise featured last week, is a species that is endemic to the Raja Ampat Islands in West Papua off the far western end of New Guinea. Just getting to the island of Batanta, where I first photographed this species in 2004, is quite an adventure in itself. After flying around the world and across Indonesia to the town of Sorong, we still had to make a boat journey to a coastal village, and then find a crew to help carry our gear several hours up a mountainside into the forest. Then we established a camp, and started scouting for the birds.

Wilson's BoP is one of the smallest, but also most colorful of the BoP's. One if its most unusual features is its bare blue head skin, but that is only a little more bizarre then its curled central tail feathers, and its amazing color scheme. The key to photographing this remarkable bird was to find an active display court, where a male had cleared the ground of debris, and had chosen a small sapling in the center that he used as his display pole. My goal with this species in particular, was to tell the story of its courtship display, so I really wanted to get images of the male displaying to a female. To do this, I set up a blind near the most promising court we found, and started waiting there each morning at dawn.

Due to the low light early in the morning, and the fact that this was 2004 and I was using early generation DSLR's, I couldn't shoot at higher than ISO 400 to maintain the image quality. So I rigged a couple strobes to give me a little fill light. This worked out well, and although the male was a very fast moving little bird, he paused long enough on his perch for me to capture the image above at 1/15 sec, giving me a nice background exposure balanced with a little flash to make his colors pop. In this pose, the male is presenting his bright red back, along with yellow neck and blue head, to a female who is looking down from up in a tree.

The second shot I was after, which I thought would tell the story of the bird's courtship, was the female perched right above the male looking down at him while he displayed. After a few of these predawn hikes up the mountain to my blind, and moving between a couple different display courts, I succeeded in capturing the image below. I thought it showed the interaction nicely, and you could even see the male shaking his tail. Feeling like I'd accomplished my goal, I switched focus to the Red Bird-of-Paradise for the remainder of that trip. Though satisfied with my shots, little did I know what I was missing by not having a way to shoot from above and capture the female's point-of-view.
It wasn't until over ten years later, in 2015, when I had a chance to go back to Raja Ampat to photograph Wilson's BoP again. Camera technology had improved a lot since 2004, and not only could I shoot in lower light without strobes, but also, I had the ability to control remotely positioned cameras over wifi. This led Ed Scholes and I to come up with a plan to hide a camera on a tree right above the male's display position, to shoot looking straight down, over the females shoulder. Well, I think the image below that Ed and I made pretty much says it all and it's fair to say it blew our socks off when we first saw it. We expected green, from the glint off the male's breast shield, but we had no idea it would be so bright. I think it is very exciting that in 2015 (and even 2020), it is still possible to find subjects in nature to photograph in ways that have never been seen before.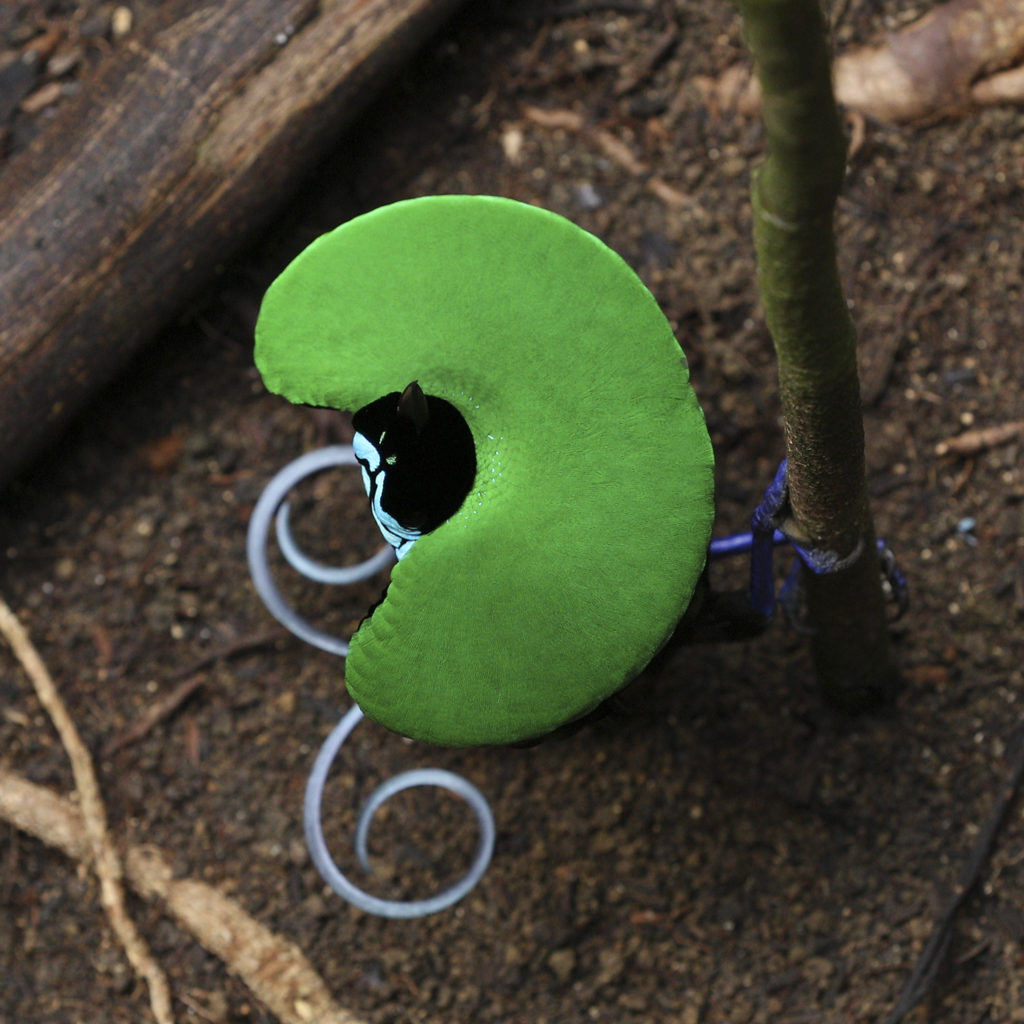 Behind the Scenes Shots:
I may be the one with the camera, but it takes a team for me to get these shots. I have worked closely with ornithologist Ed Scholes since the beginning of our Birds-of-Paradise project, and while I'm sitting in one blind, he is usually out searching for other display sites, or watching and filming other individuals. And of course without our Indonesian support crew and local landowners, we couldn't find the locations or camp comfortably when we got there. Here are a couple behind the scenes shots from our camp on Batanta Island back in 2004 when I made the featured images above. The late Kris Tindege, a pioneer birding guide in Papua, was our local guide and fixer.
Our camp on Batanta Island. Kris Tindege and local guides cooking dinner over fires. This is a pretty typical setup for how we still camp in the rain forest on our more remote locations.
It was 2004, and actually the first trip where I shot mostly digitally. Being able to download and review images at night, even in our rustic field camp, was a revelation, compared with carrying loads of film back for processing and not knowing what you had. Ed Scholes and Kris Tindege look on while I review some Wilson's BoP shots.
---