Dear Friends,
Have you ever seen a mangrove forest? These habitats defined by trees that can withstand saltwater are incredibly fascinating and important. Not only do they harbor their own unique biodiversity, but they protect coastlines, are nursery grounds for marine life, and are incredibly good at sequestering carbon. In fact research shows they store five times more carbon than forests on land!
On our Cornell Lab expedition to West Papua over the summer, in collaboration with our Indonesian partners, we were able to visit and document one of the largest mangrove forests in the world, in a place called Bintuni Bay. Indonesia harbors over 25% of the world's mangroves, and over half of that is in Papua, where Bintuni Bay is one of the prime examples.
It was a challenge to capture the scale of these vast forests, but aerial images helped, and I hope you enjoy the glimpse of this unique forest and a few of its inhabitants in the images below. If you want to learn more about mangroves, I'll leave some links at the bottom.
The Vast Mangroves of Bintuni
From the air, the mangrove forests of Bintuni seem to stretch on as far a you can see, cut by a maze winding tidal channels (in fact I was amazed our boatman could keep track of where we were and find the way back after hours of meandering). Although mangroves in many parts of the world have been exploited or degraded for coastal development, shrimp farms, charcoal harvesting, and other reasons, this region, with great foresight, is being protected by the Indonesian government. (This image is a stitched panoramic image made with the help of licensed Indonesian drone pilot Faizal Aziz.)
Life in the Mangroves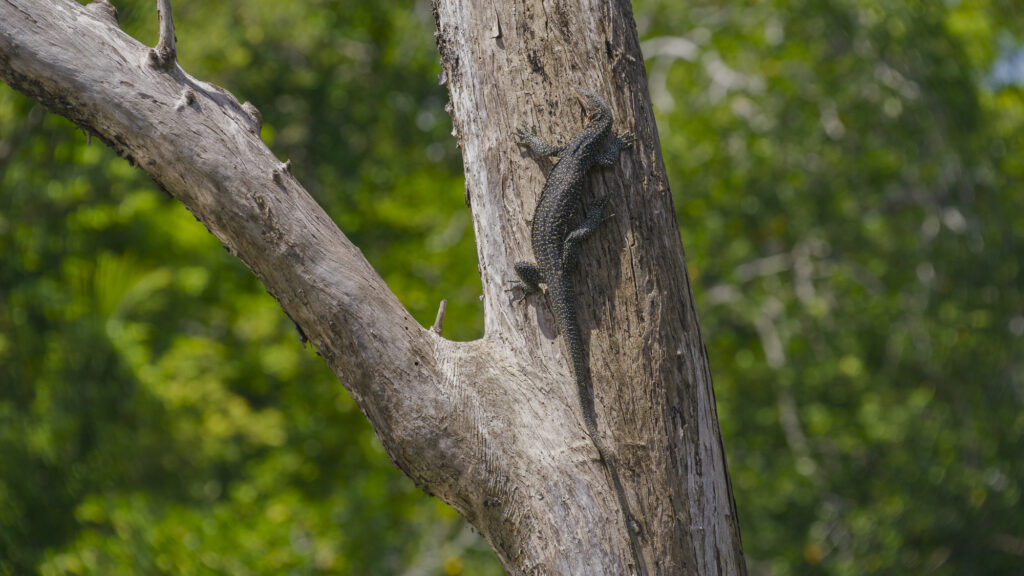 Top: Rhizophora mangrove roots create an impenetrable tangle along most of the river channels.
Left: A mangrove monitor clings to a dead tree.
Right: When the tide goes out, you can get a glimpse of some of the critters that occupy this nutrient rich habitat, such as the mudskipper fish and mud crabs.
Behind-the-Scenes
To get into the vast mangroves of Bintuni, we hired a local fishing boat for a couple days and explored the seemingly endless channels. Here is a behind the scenes shot of how I filmed from a tripod in the boat. Stay tuned, and I will let you know in a future Wildlife Diaries when our video documenting the amazing biodiversity of Papua becomes available for public viewing.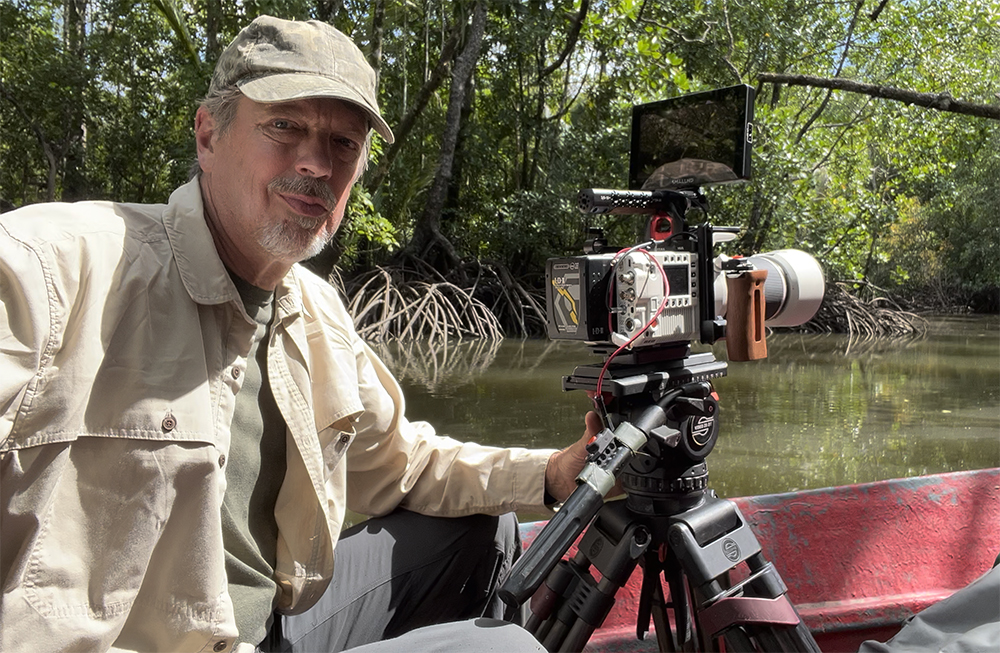 Thanks for tuning in to my adventures. Please feel free to share this newsletter with anyone who you think might enjoy it. The more people who know about mangroves, the better.
Stay safe everyone, and be sure to get your dose of nature therapy!
Warmest regards,
Tim Laman
PS. My new 2024 calendar is now ready, featuring images from my latest book BIRD PLANET.
ADDITIONAL INFO ON MANGROVES:
I photographed mangroves around the world for a National Geographic magazine story back in 2007. Here is a gallery of my images from various locations:
https://archive.timlaman.com/gallery/Mangroves/G0000UjCNiCR6Ec0/
Conservation International has an informative page on mangroves here:
https://www.conservation.org/act/share-the-facts-about-mangroves#:~:text=Mangroves%20store%20more%20carbon%20per,per%20hectare%20than%20terrestrial%20forests
Infographic from National Geographic on Mangroves:
https://education.nationalgeographic.org/resource/the-mangrove-ecosystem/