Dear Friends,
Between spending time outside photographing winter birds here in New England, I've been in my studio working through my archives gathering old favorites and discovering unpublished gems for a potential book project on my bird photography from around the world. This week, I was "virtually" in Australia, reliving a series of expeditions to the remote Cape York Peninsula where some years ago, our team from National Geographic and the Cornell Lab of Ornithology worked to document some of the rarest and most endangered species found in this wilderness. One of the standouts was the Golden-shouldered Parrot, an endangered species with only about 300 breeding pairs remaining. I was able to photograph them in their unique habitat dotted with giant termite mounds. I hope you enjoy the images and behind-the-scenes video below. It is always my hope that by sharing the stories of endangered species, we can increase awareness and have a positive impact on their future.
THE LANDING – GOLDEN-SHOULDERED PARROT
THE LANDING is not yet in our Fine Art online gallery, but let us know if anyone is interested in a print and we can make it happen! Let Rachel know at Studio@TimLaman.com.
THE PARROT AND THE TERMITE MOUNDS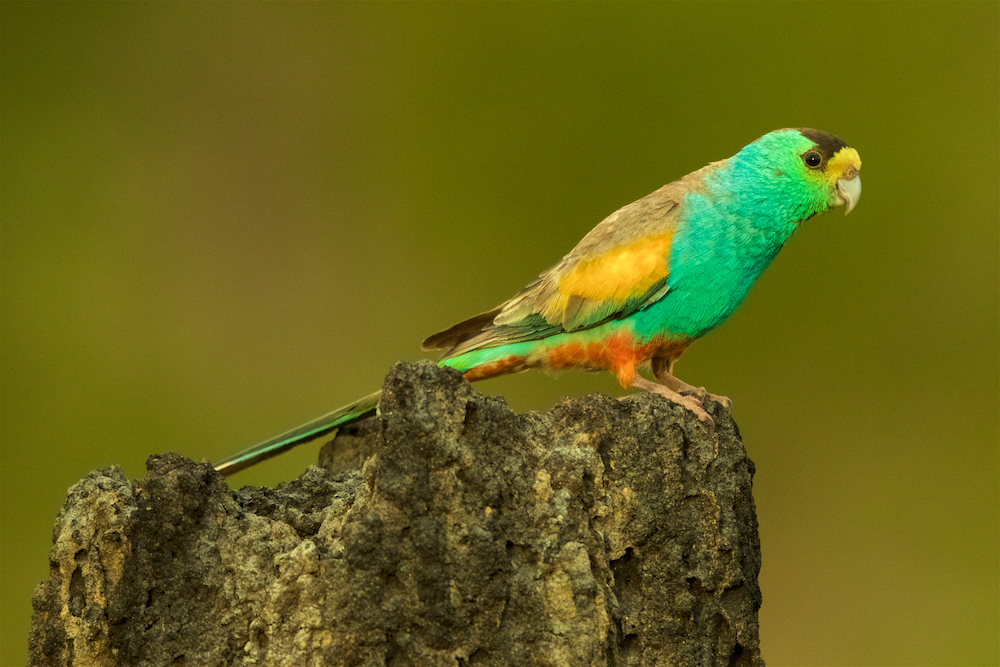 A male Golden-shouldered Parrot perches on top of a termite mound. Here you can really see how the bird got its name!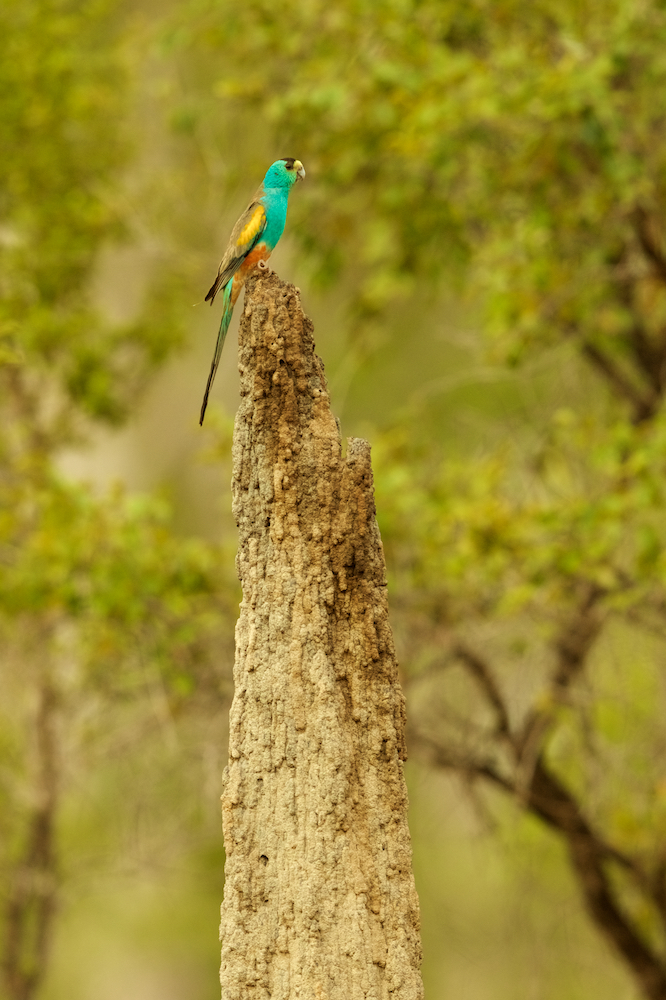 Before dropping down and into the nest cavity to feed the chicks, the male often landed briefly on top of the termite tower to scan his surroundings.
This wide shot shows you the scale of these incredible termite towers as the male perches at the nest entrance after the landing.
BEHIND-THE-SCENES
To capture the images above, I hiked into the location before sunrise, and set up my equipment and blind (which coincidentally was shaped rather like a termite mound and blended in fairly well). It was still half dark when I shot this time lapse, but as soon as the sun rose over the trees behind me, the habitat was illuminated with the lovely morning light that you see in the images above.
Thanks for tuning in to my adventures. Please feel free to share this newsletter with anyone who you think might enjoy it. The more people who know about endangered species like the Golden-shouldered Parrot the better!
Stay safe everyone, and be sure to get your dose of nature therapy!
Warmest regards,
Tim Laman
PS. We will continue to add new images and galleries to TimLamanFineArt.com throughout the year, so be sure to take a look from time to time and see what's new. Thanks!